23 Mar

Tested Covid-19 Positive 5 Days Before Milestone Jakarta Trip

Tested positive this morning on 23 Mar 2022 when my pre-departure PCR is on 26 Mar and my milestone Jakarta trip (with new God given mission) is on 28 Mar. Enemy chose a date where I cannot recover in time for my pre-departure PCR. Enemy really doesn't like me in Jakarta. On the other hand I thank God I didn't test positive in Jakarta which would have been more troublesome.

26 Mar 2022

My symptoms were "not mild". Covid is a nasty bad flu to me. When I felt sick, it's actually harder to focus my mind on God (similar experience when I was very sick in 2017/2018). All I wanted was to watch some mindless shows on Netflix. Both my kids tested positive too. Thank God they are quite ok.

Heart was very tender towards God this morning, worshipping privately in my room. God ministered to me deeply. First song 深深愛祢 by Stream of Praise: I was singing of my love for Yeshua. Was deeply ministered by Yeshua's love for me (us) with the lyrics "深深愛我". See visions of scenes of the glory of the "skies" and an armoured warrior with wings.
On Sat night, 26 Mar 2022, (narrated to me on Monday). Brother was driving home in Jakarta when God spoke to him "Jay, Jay, Jay". He sensed it's about Covid and he prayed for us. Indeed on this Sat, I felt worse and slightly breathless. Oxygen dropped to around 95%. Clara and Sean both tested positive. Both having high fever but thank God things quickly turned for the better. Thank God for speaking to brother in Jakarta to pray for us. By Sunday night, things had turned better for me and family.
29 Mar 2022
During morning prayers, I was given Hebrews 2:13: And again, "I will put my trust in him." And again he says, "Here am I, and the children God has given me." and Isaiah 8:17-18: I will wait for the Lord, who is hiding his face from the descendants of Jacob. I will put my trust in him. Here am I, and the children the Lord has given me. We are signs and symbols in Israel from the Lord Almighty, who dwells on Mount Zion.
2 Apr 2022
Today is 1 Nisan 5782. I finally tested negative for Covid-19. God's timing is perfect. We are ready to start the new phase. Sean tested negative today too. (Read: Moving On To Next Phase)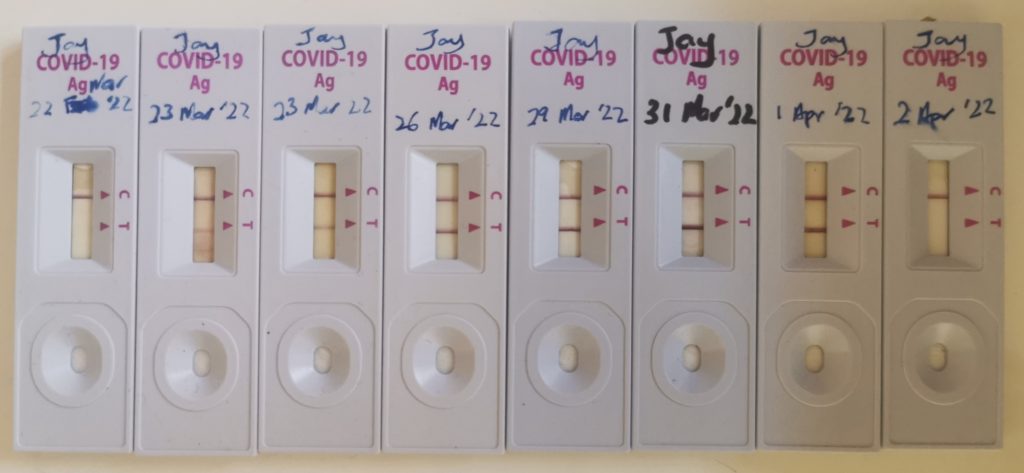 Special mention to wife who stayed negative and took care of 3 of us. We have no idea how she stayed Covid negative but thank God anyway!